Within the club many of our members are amateur radio operators and assist in maintaining a number of repeaters around the local region. Below is some information that will be of use to visiting amateurs. Pop up and say G'Day and our members will only be too happy to have a chat.
Current HF Band Conditions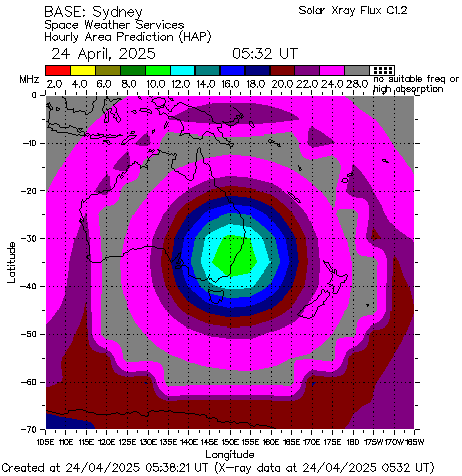 Local Repeater Information
Voice
VK2RTM
146.750 Mhz -600 Khz offset. No input tone is required and no output tone is added.
Located on Mount Crawney near Nundle, New South Wales, in the Dingo State Forest. This site has coverage extending to Singleton in the Upper Hunter to the south, Bendemeer to the north, Walcha to the east and Coonabarabran to the west.
VK2RMO
146.850 Mhz -600 Khz offset. No input tone is required*. 91.5Hz CCTSS is added to the output.
Located near Tamworth this repeter provides good coverage of The City of Tamworth providing easy hand held operation. This repeater provides good coverage into the plains between Tamworth and Gunnedah and can also be reached from within the Nundle State Forest. A 91.5 Hz CTCSS tone is added to the output of the repeater for those wishing to program tone squelch on your radio.
Other Repeters (APRS Network)
VK2RTM-1
145.175 Mhz Simplex
A wide2 APRS Digi covering Tamworth & south to Aberdeen, North to Uralla, east to Walcha and west to Narrabri. This digi is the mainstay of APRS coverage in the North West.
VK2RCC-1
145.175 Mhz Simplex
A wide2 APRS Digi located south of Coonabarabran. This Digi is provided with the assistance of the Orana Region Amateur Radio Club. and provides coverage south from Orange to Walget in the North West.
VK2YGV-5
145.175 Mhz simplex
An RX only iGate at the site of VK2RMO. This iGate has good elevation over Tamworth and provides a solid fill in for the VK2RTM digi if it goes offline. Thanks to John for providing this service.
The club has several other repeater projects under planning, construction and testing.